One pitch photovoltaic roofing
modules 5 x 5
Excellent for border installation with vehicles' access from one side only.
Maximum power for each module 5x5: 3.3 kWp
Maximum power for m2 of sheltered surface : 132 Wp/m2
Yearly profit 2140 € (estimate for northern Italy)
Yearly profit 3150 € (estimate for southern Italy)
Best orientation :Pitch toward SOUTH (160-200°)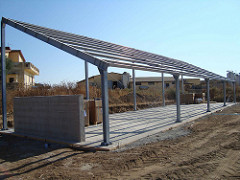 Can be customized of standard roofing REN8004 on customer request.
In picture: structure before the assembly of modules.
Photovoltaic roofing Siliqua (CA) - Italy

Project by Ing. Stefania Loi
in cooperation with
ENERSOLAR Srl Cagliari - Italy