Multi-pitch photovoltaic greenhouse - REN 9002 -en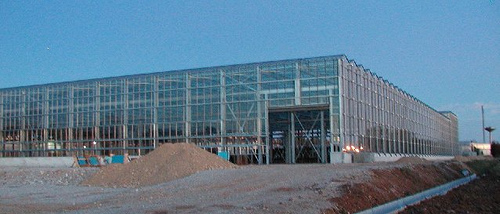 Multi-pitch photovoltaic greenhouses have born to combine the need to increase the greenhouse's production with the need to produce electricity.
Multi-pitch photovoltaic greenhouses maximize the greenhouse's agricultural output. They are excellent for the production of greens and vegetables which like most the indirect than the direct light.
Maximum power produced is 75 W/m2 using high-efficiency photovoltaic modules.
On demand it is possible to request transparent photovoltaic modules to increase the spreading of the light.
Our photovoltaic standard multi-pitch greenhouses are available in the following models:
- REN 9002 9600 (9,60m nave)
- REN 9002 12000 (12,00m nave)
Our standard structures will be modified in order to fit the chosen photovoltaic modules
Photovoltaic greenhouse's steel we produce is Class A30 and calulated according to the laws in force.