Renewable energy

Ask information to MECH for planning your plant, the financing and the carrying out.
MECH also designs kits, products and structures ready to house the photovoltaic system (Photovoltaic roofing, trackers...)
Not renewable energy, such as oil, is destined to rise in prices until its exhaustion. Renewable energy is nowadays a civil and moral duty for governments, regions, municipalities and for the citizens as well.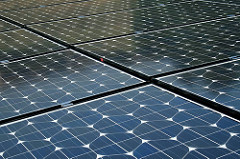 Renewable energy has to go side by side with not renewable sources and gradually replace them.
MECH is on the side of companies, public bodies and citizens who really want to invest in renewable energy.